Horse Camps
Tammy McDonald Training offers a series of Horse Camps throughout the year. Come and get an in-depth experience of the horse world. Our camps are open to adults and children 6 years old and up.
Horse Camp Highlights:
Learn ground work and horse handling
Learn to groom, saddle and bridle
Learn about tack and tack care
Learn about breeds, sexes, and colors
See our farriers and veterinarians at work
Games, crafts, and paint the horse
Hours of horseback riding
All Star Horse Camps:
A more challenging camp for advanced students
limited to 10 people per camp
Learn professional show prep
Learn showmanship
Learn groundwork
Learn ranch trail riding
Advanced riding excercises
Bareback and dollar bill riding
And much, much more
Summer Horse Camp Dates
June
3 days
14th-16th
June
3 days
28th-30th
July
3 days
12th-14th
July
3 days
26th-28th
August
3 days
9th-11th
August
3 days
16th-18th
All Star Camp Dates
June
4 days
21st-24th
July
4 days
19th-22nd
August
4 days
2nd-5th
Regular horse camps are 3 days each.
The camp hours are 9:00 to 2:00 and the cost is $210.
*NEW* The All Star Camps are 4 days each.
The camp hours are 9:00 to 2:00 and the cost is $280.

To download a Horse Camp Registration form and a Hold Harmless Release, click on the appropriate the icons below:

CampRegistration

HoldHarmless
Camp Registration and Hold Harmless in PDF format

CampRegistration

HoldHarmless
Camp Registration and Hold Harmless in ODT format
---
Here are some pictures of a recent horse camp: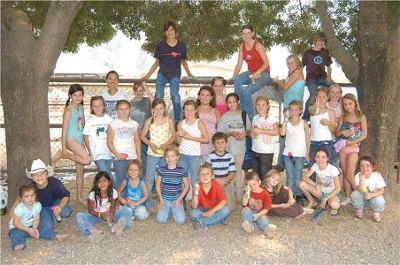 Horse Campers and assistants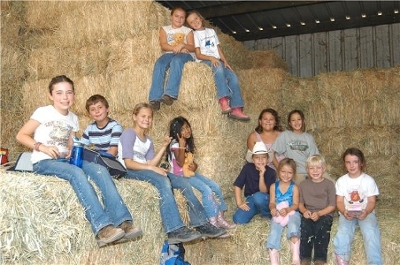 Lunch break in the hay barn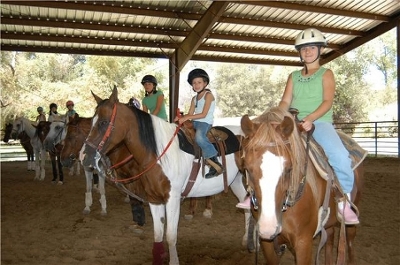 Horse Campers riding in the arena