Training and Showing
At Tammy McDonald Training we believe in working with the horse, not against him. All horses bring a different set of attitudes and abilities, and as trainers we have to understand the individual horse and tailor our methods to that individual. Whether starting a young horse or working with a seasoned veteran, it is important to get him to trust us so he can relax, have confidence in us and want to respond to the training.
Starting a young horse...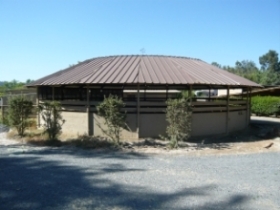 We like to start a horse young, about two to three is best as they start easier and gentle down faster. Of course, a two to three year old must not be overworked, and we take special care not to do so. Older horses, three to five, take longer and unless they have been well handled when they were young, are more difficult to deal with.
We start with basic ground work, setting up a routine and moving the young horse forward when he is ready. We then introduce the saddle, get him used to that, then introduce the bit. Working from the ground, we work on getting good movement and headset and correct response to basic voice commands.
Once the youngster is doing well under saddle and with the bit, we will mount up and start riding him in the round pen, getting him to turn, stop, back and move into the different gaits. Once he is going well in the round pen, we will move out to the big arena and continue with the basics. As soon as possible, we take the youngsters out on the trail and let them see that big world outside of the stable. This is very important as it really lets the young horse get used to so many different things and has a positive effect on their self confidence. All of this leads to providing a good, reliable mount for you, their owner.
Showing...
Tammy McDonald specializes in the following show disiplines: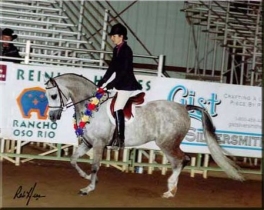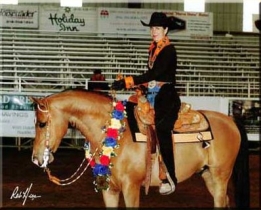 Western Pleasure
Western Equitation
English Pleasure
English Equitation
Hunt Seat
Side Saddle
Tammy McDonald has many years of experience in bringing the horse and rider to high levels of skill in both western and english riding styles. She has competed in many disciplines at all levels up to the national championships in both the USA and Canada. She can bring you and your mount, as a team, to whatever level you may aspire to reach.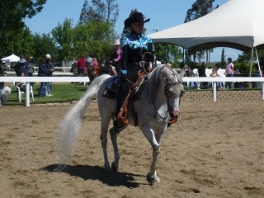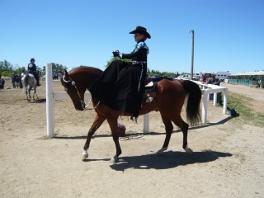 Tammy will get you and your mount started with the basics of any disipline you wish to compete in. She will get you and your mount working as a team, bringing you both along one step at a time. When you are ready, Tammy will take you to some of our local schooling shows to give you that first taste of competition. Then it is on to the Region III Class A shows, then perhaps the Region III Championships in Reno. After that, it's as far as you want to go. And Tammy will be there for you at each and every show coaching you to your fullest potential.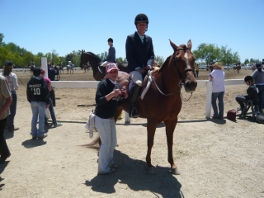 Both Tammy and her riders have taken home National Championship & Reserve National Championship trophies and many Top Five and Top Ten placings.

Trail Training...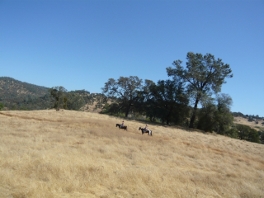 At Tammy McDonald Training we do a lot of trail work. We take every young horse that we start out on the trail. It's just part of what we do when we work with a young horse. But it's not just young horses, we take the veteran show horses out also. It really helps to break their routine and freshen up their attitudes. Plus it is great exercise and can really help their overall appearance.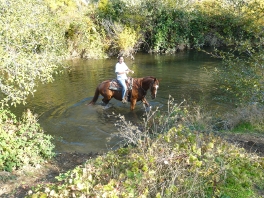 Many horses will have issues with situations they meet out on the trail. When we take a horse out on the trail we work on all aspects of trail etiquette. We work on getting the horse and rider to relax and handle situations that arise on the trail in stride. Experience is key, and the more a horse has the better. We try to get the horse to work correctly out on the trail, just as he/she would do in the arena.

Whether you are interested in NATRC competetive trail rides, ride & tie competitions, endurance racing or simply the weekend trail ride with your buddies, we can get your mount ready for whatever it will meet out on the trail.